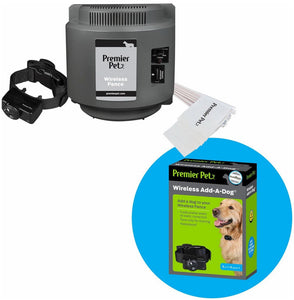 Premier Pet Wireless Fence With Up To 1/2 Acre Circular Boundary
$396.16

$396.16

Save $25.29
---
---
Premier Pet Wireless Fence With Up To 1/2 Acre Circular Boundary + Add-a-Dog Collar

- ??Premier Pet Wireless Fence With Up To 1/2 Acre Circular Boundary Premier
- Pet Wireless Add-a-Dog Collar
The Premier Pet Wireless Fence keeps your dog safely in your yard without the hassle of digging trenches or burying wire. During the quick setup (one to two hours), you will be able to adjust the size of the circular boundary to the size that best fits your yard, up to 1/2 acre. The system works by delivering a warning tone, through the receiver collar, as your dog approaches the boundary to remind him/her to head back to the house. If your dog continues away from the house, a static correction will be delivered at the level you choose that works best for your dog's temperament. After two weeks of training, your dog will learn the boundary, allowing both you and your dog to enjoy the yard freely.
The Premier Pet Wireless Add-A-Dog collar allows you to expand your current Premier Pet Wireless Fence to contain any number of dogs, or can be used as a replacement or extra receiver collar. When first taken out of the box, this collar will be set to tone-only mode for training. Use the button to cycle through the static correction levels, choosing the level that works best for your dog's temperament. Test at the boundary, then simply fit the collar on your dog. It will work with your containment system, giving a tone when your dog first approaches the boundary, and then a static correction if he/she does not turn back to the house. Once trained, you and your dog will be able to enjoy your yard safely and freely.
Features:
Premier Pet Wireless Fence With Up To 1/2 Acre Circular Boundary
Waterproof receiver collar with an adjustable nylon strap up to 27"
Expandable to contain an unlimited number of dogs, 6 months and older weighing more than 8 lbs. with the Premier Pet Wireless Add-A-Dog collar
Premier Pet Wireless Add-a-Dog Collar
Waterproof with an adjustable nylon strap up to 27"
For dogs 6 months and older weighing more than 8 lbs.
Free Shipping! to any lower 48 USA Street Address
Ships by FedEx Ground

Fast Shipping and Delivery Schedule
- Ships by FedEx within 0-2 business days after purchase. Weekends and holidays are not business days.
Free Returns - Should it be necessary to return your order for any reason, a return shipping label will be provided at no cost.
Tracking - For your convenience the tracking number for your shipment will be sent to your email and posted to your order history quickly after your order has shipped.
Packaging - All items are well packed to ensure safe delivery. Some items do ship safely and securely in the manufacturer's box which may clearly indicate the contents.
Customer Service - Please contact us by email at odf@outdoorfurniture-showroom.com with any questions or if for any reason you are dis-satisfied after receiving your delivery.